American actress, 44-year-old Tory Spelling is pregnant again and does not hide the good news from fans and journalists.
The star of the cult serial of the 90s "Beverly Hills 90210" Tori Spelling will be the mother for the fifth time, and this despite the fact that the last two times the pregnancy was very difficult for her – during childbirth and after them complications occurred.
Tori Spelling and her husband, 43, actor Dean McDermot, gave an interview to the American tabloid People and shared the news, which is hard to hide.
This was a complete surprise to us. But we always wanted a big family. I am very excited – said McDermott
This baby came at the best time, says Spelling. – Of course, health is not perfect, but I'm so madly in love with my husband, and so happy with our children. Adding to our family, then such a blessing.
More recently, at the end of the summer, Tori Spelling and Dean McDermott celebrated their 10th wedding anniversary. Everything was extremely romantic – the whole family traveled around France and on the day of the anniversary they were in Paris. During breakfast in a cafe with a view of the Eiffel Tower, a man dropped to one knee and re-offered his wife a gift, presenting a wedding ring with a diamond. Of course, Tori Spelling was touched, and all the children were delighted.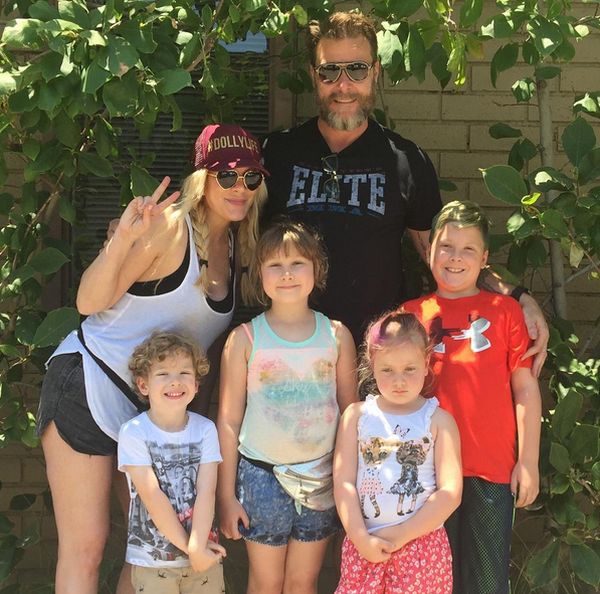 Din McDermot has something to be grateful to his wife – besides the fact that she bore him four children, Tori was able to overcome the insult and forgive his betrayal, allowing him to return to the family.
Recall, Tori Spelling, most familiar to us from the role of Donna Martin in the TV series "Beverly Hills, 90210" and actor Dean McDermot bring up four children: two girls, 8-year-old Stella and 5-year-old Hattie, as well as two boys – 9- Liam and 4-year-old Finn.
Editorial opinion may not coincide with the opinion of the author of the article.