On this weekend, Gwen Stefani walked around the city with all three sons, but in the last year she did not do it as often as we would like.
The boys, as always, are dressed exceptionally stylish. However, it is not surprising, their mother, singer, author of her own songs, soloist of the group "NoDoubt" and TV presenter Gwen Stefani always had her own independent style, and not only in clothes.
The 9-year-old blonde Zuma seems to be very fond of eating, which is not very well reflected in the boy's figure, but he's growing up and playing sports will definitely help the boy become a slender youth. In the photo, Gwen Stefani is dressed in a form-fitting open dress with a rather perilous leopard print, the decoration is just a small cross. Zuma is preparing to eat another slice of pizza.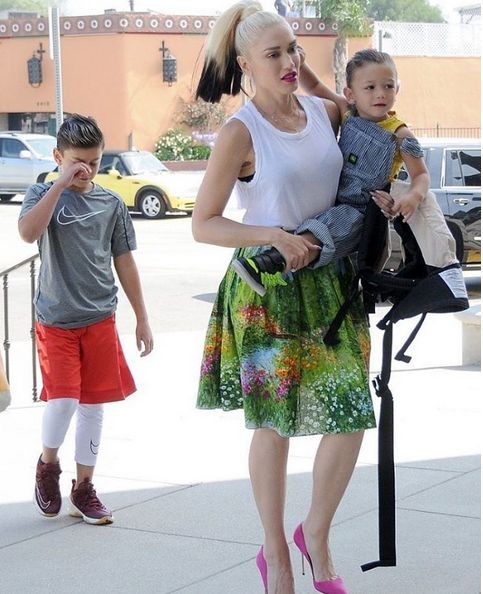 In the second photo on Gwen Stefani, a white topic, a skirt with a photo print and pink shoes with such a high heel, that the subscribers were worried about the safety of the child: "These heels are just needles of some kind. How does she carry the child on such and not fall back ?? " Gwen carries the two-year-old Apollo in his arms, and the eldest of the brothers, 11-year-old Kingston, walks behind. Subscribers immediately noted the surprising similarity of the boy with his father: "She looks great! Apollo is just a copy of his father, but also a dad's hair style! ".
Gwen Stefani, a supporter of the free upbringing of children, has repeatedly admitted in an interview that she doesn't deny them practically anything and believes that a person is given a childhood only once and this time should be remembered as the happiest. Who knows what difficulties her boys expect in the adult world?
All I want is for my children to be happy and healthy. I ask God to guide me every day, because it is very difficult to be a good mother … While my boys are protected and happy, and we have fun, it doesn't matter whether it is a sport or a manicure, the rest does not matter
Recall Gwen Stefani filed for divorce from the father of boys, a 50-year-old musician Gavin Rossdale in the summer of 2015, after 13 years of marriage. Formally, in a statement, she indicated "insurmountable differences" as the basis; in fact, Rossdale's betrayal was the cause of the divorce – for 3 years he had cheated on his wife with a young nanny of their children.
According to the court's decision, parents share the parents 'custody equally, which means that the boys spend half the time with their father. Recently, Gavin Rossdale decided to find out what his son's relationship was with the new man Gwen Stefani, country singer Blake Shelton. According to insiders, Rossdale wants to establish clear boundaries for their communication and to understand Shelton's influence on boys. By law, he certainly has the right to do so, but how Gwen will relate to such requirements, and what Shelton will say about this is not yet clear.
Editorial opinion may not coincide with the opinion of the author of the article.